"SNSD aka Girls Generation" - Taking The World By Storm
"SNSD (So Nyuh Shi Dae) aka Girls Generation" are considered by many to be South Korea's leading girl group. GIrls Generation is currently managed by SM Entertainment and made its debut in 2007 with their debut single "Into The New World", and they are currently one of the largest groups in K-pop with a total of nine members, comprising of:
Taeyeon (Kim Tae Yeon)
Jessica (Jung Soo Yeon)
Sunny (Lee Soon Kyu)
Tiffany (Hwang Mi Young)
Yuri (Kwon Yu Ri)
Hyoyeon (Kim Hyo Yeon)
Sooyoung (Choi Soo Young)
Yoona (Im Yoon A)
Seohyun (Seo Joo Hyun)
SNSD or Girls Generation have produced numerous albums varying from studio albums, digital singles, live albums and repackage albums.
Many of their singles have reached number one on various music charts, some of their more notable songs include: "Into The New World", "Girls Generation", "Gee", "Tell Me Your Wish (Genie)", "Oh!", "Run Devil Run" and "Hoot".
Additionally they have expanded activities to Japan where they have done Japanese covers of Gee, Tell Me Your Wish (Genie) and Run Devil Run as well as introducing their original Japanese single "Mr Taxi".
SNSD has also made collaborations with many popular artists including: 2PM and fellow SM Entertainment labelmates Super Junior and f(x).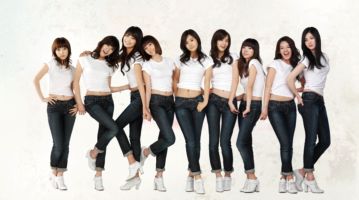 Girls Generation have not only dominated the Korean pop music industry,but with their third single "Gee" they have made a global impact with its catchy tune and cute dance choreography.

SNSD have proved themselves to be an established market leader, leading the K-pop wave and have demonstrated their versatility in singing different genres ranging from: cute and playful, sexy and dark and mysterious.
Aside from their music career, the members have been involved in different sections of the entertainment industry varying from variety shows to acting. Member's Sunny and Yuri participated in the variety show "Invincible Youth" where alongside other girl group members they embarked on living life in the rural areas.
Maknae - Seohyun was involved in "We Got Married" where she was partnered with CN Blue leader "Jung Yonghwa" to experience married life, she also did the voice dubbing for the Korean version of "Despicable Me" with fellow band mate - Taeyeon.
Leader Taeyeon has explored a variety of different areas including: TV and radio hosting, making her acting debut through the musical play titles "Midnight Sun" (Based on the Japanese drama and movie of the same name), she also was previously active in "We Got Married" being coupled with comedian "Jeong Hyeong-Don".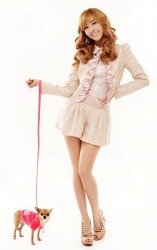 Jessica (With her stunning blonde hair) also made her acting debut through the "Legally Blonde" musical as "Elle Woods", starring alongside fellow stars: Lee Ha-Nui and Kim Ji-Woo.
Jessica's singing career has expanded beyond SNSD, being involved with many song collaborations including: "Cold Noodles" with Park Myungsoo, "One Years Later" with labelmate Onew (ShiNee), "Oppa Nappa" with band mates Tiffany and Seohyun and has even released her own digital single "Sweet Delight".
She has also been employed as a model to endorse several popular brands.
Among all of the members, Yoona has had the most individual activity, even before debuting with Girls Generation Yoona was involved with commercial ads and was a model for various magazines. She has also made her acting debut in 2007 with the drama "9 Ends, 2 Outs" then in the following year appearing in "Woman of Matchless Beauty" but her breakthrough in the acting industry was in 2008 where she landed the lead role in "You Are My Destiny" where she won the KBS drama award for - Best New Actress.
In the drama, "Cinderalla Man" she acted alongside actor "Kwon Sang-Woo". She also participated in the variety show "Family Outing Season 2" where she and the "family" experienced living in the rural side (similar to Sunny and Yoona in Invincible Youth). Yoona is currently a model for brands including: Clean and Clear, YeJiMin Pad, Innisfree Cosmetics and S-Oil, she recently released a solo song titled "Innisfree Day" to promote Innisfree Cosmetics.
All of the members have also made cameos and had small roles in Korean TV shows. The girls have also had several of their own reality TV shows, some of the more popular ones including:
Girls Go To School (Outlining the time during their early activities)
Horror Movie Factory (Where the members learn and get tested about acting)
Girls Generation Hello Baby (Where they acted as mum's to take care of a baby - Kyungsan)
Right Now It's Girls Generation (Showcasing Girls Generation's journey till the present day)
Their "Into The New World" tour where they toured not only South Korea but also Shanghai and Taiwan, concert tickets were sold out in a matter of minutes.
SNSD aka Girls Generation held their second tour titled "The 1st Japan Arena Tour" touring around Japan for a total of 10 performances.
SNSD then returned to South Korea to kick off the start of their second Asia tour, which started off in Seoul followed by Taiwan and Singapore on 9th December 2011. SNSD also joined their fellow K-pop idols to the land down under for the 2011 Sydney Kpop Music Festival, where they wow'ed their fans in Australia.
SNSD teased fans worldwide with their latest "princess" concept and then unleashed their latest song "The Boys" which scored an all kill on the online music charts as well as landing them first place on various music shows i.e. Music Bank, M!Countdown and Inkigayo.
SNSD had released a Korean and English version of the song and is the first song to mark the entry into the international music industry. The Boys was produced and composed by Teddy Riley who was Michael Jackson's producers, and is briefly mentioned in the song where Jessica's line states "T.R.X" which fans have stated that it stands for Teddy Riley Xperience.
Moving more to SNSD merchandise, many soshi fans (myself included) were delighted to hear that the girls would be releasing their third photo book titled "Holiday" outlining their holiday in Japan. A must get item for all Girls Generation fans out there.