Wonder Girls - A 5 Girl Band Allkpop Wonder
Wonder Girls of JYP Entertainment is one of the allkpop discovery! They are one of the best representatives of the South Korean pop music, also known as kpop. All five members of the group were chosen through auditions. Two of the original members have left the group due to health and educational problems, Hyuna and Sun Mi correspondingly.

Nowadays, the Wonder Girls consists of Hye Lim, Sun Ye, Yu Bin, So Hee and Ye Eun. The youngest member is the vocalist Hye Lim, who is 18 years old. The producer and the manager of the band is Park Jin-Young, a singer and a songwriter, as well as the owner of the JYP Entertainment.
The debut of the Wonder Girls was in the beginning of 2007 and by the fall of that same year the single "Tell Me" brought fame to the group. Not only have they won two "Artist of the Year" awards. but they also landed three #1 singles consecutively, including "Nobody", the single that was the first Korean song to appear on the Billboard Hot 100.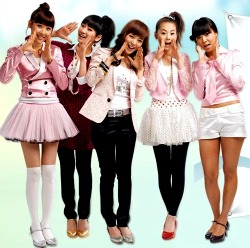 The group released its first album under the name "The Wonder Begins". As the success of the Wonder Girls was obvious, they started releasing singles in different languages.
In 2009, Korean group the Wonder Girls appeared on a stage as a warm-up before famous American group the Jonas Brothers.
Allkpop Wonder Girls is well and truly set to continue to enjoy their wave of popularity.


Wonder Girls Back to Kpop