Allkpop SECRET!
Rising Stars of the Kpop World!
Allkpop SECRET - is a four member girl group formed under TS Entertainment. They have very quickly become one of the most popular girls group in South Korea with one hit song after another.
The group consisting of members:

Jeon Hyo Sung
Song Ji Eun
Zinger (Jung Hana)
Han Sun Hwa

was formed in 2009 and debuted with their single "I Want You Back". Though the song had good rhythm and quite catchy, it failed to give them the big impact they were hoping for. Their second single "Magic" (released in 2010), with its quirky up-beat tempo, however, was so popular that the music video quickly reached 1 million views via various video portals.

That same year, this girl group released another song "Madonna" which followed the upbeat jazz tempo and the group's sexy image. The single "Madonna" landed Allkpop SECRET their first win on the GAON CHARTS, and ultimately topping all the online music websites in a couple of weeks.
The group did a complete transformation from sexy divas to "cute retro girls" in their third single "Shy Boy". They embraced the retro era, from outfits to hairstyles. It was quite refreshing to see this cute side of them after the sexiness of "Magic" and "Madonna". "Shy Boy" obviously proved to be a big hit with fans as well, as it was ranked number one on various music charts for three weeks running.
<p>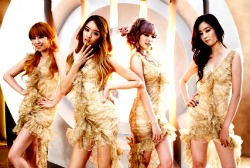 TS Entertainment had allkpop SECRET fans excited with the news that main vocalist "Song Ji Eun" would be releasing a solo song "Going Crazy" featuring TS Entertainment trainee and now leader of B.A.P "Bang Yong Guk". With Ji Eun's powerful vocals accompanied by Yong Guk's rapping abilities, they went on to top the GAON CHARTS as well as dominating several online music charts. Being Ji Eun's first solo song she reminded everyone why she is the main vocalist for SECRET.

In June 2011, Allkpop SECRET introduced yet another hit "Starlight Moonlight" ". A song with slower tempo allowed them to showcase their vocal skills and cute facial expression and gestures. The time has come for the group to debut in Japan (following their Sunbaes [seniors] "Kara" and "Girls Generation") with a Japanese version of their smash hit "Madonna". After the release of the single, Secret's popularity in Japan soared landing the group the number nine spot on the Oricon Music Charts, making their big impact in Japan.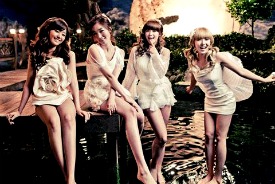 Allkpop Secret excited fans in late October of 2011, with the announcement of their first full length album "Moving in Secret". Their title song "Love is Move" however, had mixed reviews from kpop fans, some saying it was an amazing song, while others were slightly disappointed that the song didn't match the success of their previous songs. Overall the album was well received showing a different side to the group.
Allkpop SECRET has gained much popularity from appearing in various variety shows. Member "Han Sun Hwa" was selected to be one of the original members of G7 (Girls 7) for Invincible Youth, where she was branded as "White Paper" due to her apparent inability to calculate simple maths equations.
Even fellow member Song Ji Eun was invited as a special guest along with fellow idols: Kara's Kang Ji Young and f(x)'s Krystal, Sulli and Luna. Leader Jeon Hyo Sung was also a permanent member of variety show "Oh My School aka 100 points out of 100 points" fueling gossip of a "relationship" between her and Beast member "Lee Kikwang". In fact, the group are permanent guest on MBC's Bouquet, with fellow idol groups - 4minute, After School, Rainbow, T-ara and more.
Allkpop SECRET is taking the world by storm and were one of the 12 groups invited to Sydney, Australia to perform at the 2012 Sydney Kpop Music Fest.


On 23rd March 2012, SECRET is scheduled to have their fan meeting in Singapore appearing with labelmates "B.A.P", an event that will leave many international allkpop fans wild with jealousy, myself included! (As I am writing this, I am going wild with the thought of not being able to attend!). Allkpop SECRET has released their third Japanese single titled "So Much For Goodbye", and held their first concert "SECRET's First Japan Tour" which was held in three cities in Japan: Osaka, Nagoya and Tokyo.

Being a new group debuting only in 2009 and labeled as "Basement Idols" (due to their dormitory being located in the basement), this group has experienced much success with one hit song after the other, and have continued to ride this success with their expansion into the Japanese market.
Secret is the band that encompasses everything that is truly allkpop! They have now joined fellow idols "Girls Generation", "Kara", "Big Bang" and many more in the Halleyu Wave in Japan.
Allkpop SECRET back to Allkpop