Kpop Sydney Music Fest 2011 Woos Fans!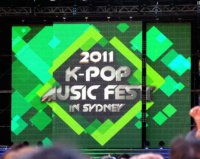 I love allkpop concerts and what explosive performances!
I am referring to the first Kpop Sydney event to hit the land down under -- the " K-pop Music Festival in Sydney
". This festival marked the 50th anniversary of not only MBC broadcasting station but also 50 years of diplomatic relationships between Australia and South Korea.
To commemorate this special event, 12 of the hottest Kpop stars came down to Sydney to deliver a Kpop Sydney Powerhouse Performance
for all their Aussie fans!

Tiffany and Yuri from "Girls Generation" acted as MCs for the night providing a fun filled night for us with a line up like:
Girls Generation (SNSD)
Shinee
Kara
CN Blue
Secret
4minute
Beast (B2ST)
DBSK (Dong Bang Shin Ki)
Sistar
Miss A
2AM
MBLAQ
I was fortunate enough to attend this massive Kpop Sydney Concert, and would like to share my experience and thoughts with you all.
Simply electrifying atmosphere outside the ANZ Stadium even before the actual concert began.
A sea of Kpop fans flooding the area visiting the many souvenier stores surrounding the stadium, dancing to their favorite Kpop songs, eating famous Korean snacks, taking photos with cardboard cutouts of their favorite stars, listening to SBS Popasia and lots more.

Once inside the ANZ Stadium, we could really feel the buzz amongst the emotional and anxious fans. I am sure you can imagine they absolutely lost their minds when the performance started with Shinee's Taemin being the first Star to step on stage with his vigorous dance routine, followed very closely by fellow band mates to perform their hit singles "Lucifer", "Hello" and "Ring Ding Dong".


Allkpop Concerts are truly amazing but who do you think captured the hearts of the fans at this 2011 K-pop Music Festival in Sydney
?
Miss A of course!
Miss A was the next group to take to the stage to crazy fans who went ballistic with their charismatic performance of their two title songs "Bad Girl Good Girl" and "Goodbye Baby".
Even though I was disappointed that Miss A only sang two instead of three like the other performers, it was still a fantastic performance from the ladies of JYP Entertainment.


2AM left the fans in awe of their amazing vocal skills, with their lovely, flowing ballad. Leader "Jo Kwon" seemed to receive the most cheers when his singing parts came around showing his overall popularity not only as a singer but as an entertainer.


The next performance had everyone cheering (especially fanboys) as Sistar took to the stage with their glittering sexy pink outfits, to showcase a remix version of their latest single "So Cool", "How Dare You" and the groups performance of subgroup's (Sistar19's) song "Ma Boy".
Sistar's fiery performance at K-pop Music Festival in Sydney
definitely won them another devoted fan that night:).


The next performance was a collaboration dance stage, which got many fans up on their chairs trying to get a clearer look at the idols.
ShiNee members Taemin and Minho were joined on stage by fellow labelmates Girls Generation's Yuri, Yoona, Sooyoung and Hyoyeon as they entertained the crowd with their powerful dance moves to Michael Jackson's "Jam".
The next group "Secret" definitely showed off their diversity by performing three of their hit songs, each with a different genre.
Firstly their latest song "Love is Move" which is an upbeat, fast paced jazz song, followed by "Madonna" than wrapping up with "Starlight Moonlight" a slower paced song allowing them to better demonstrate their powerful vocals.


B2ST aka Beast was the next group to grace the stage, and they came out strong with their laser light shows leading the way for their first song "Shock" (which is my favorite song of theirs) they got the crowds up and dancing and singing along "EVERY-NIGHT I SHOCK", the next song was "Fiction".
They wrapped up their stage performance with "Beautiful" which they got the crowds up and dancing again. Personally before seeing them live, I wasn't a huge Beast fan but they have such charisma on stage that I could not help but be a fan of theirs:)
I can safely say that the next group to take to the stage not only received the loudest cheers of the night but also fulfilled the dreams/fantasies of many fan-boys/girls.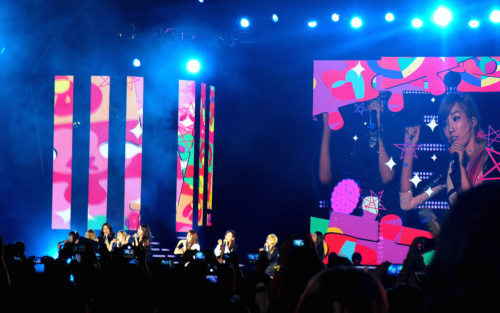 South Korea's leading girl group - Girl's Generation got the crowd on their feet, standing on their seats and screaming their heads off.
The girls began their performance with their latest hit "The Boys" which electrified the atmosphere in the stadium. The girls then took a moment to thank all the fans for coming to support them and all the other K-pop stars that night, before going into their second song "Kissing You" where some lucky fans (unfortunately not me) caught the roses that Girls Generation was throwing into the crowds.
The girls wrapped up their performance beautifully for the night with the song that led them to fame -- "Gee", the feeling in the stadium was ecstatic, as I could barely hear the girls singing over the loud voice of fans going "GEE GEE GEE GEE BABY BABY!".
This performance without a doubt was the highlight of my night. UNFORGETTABLE!

Mblaq was the next mega boy band to take to the stage.
Prior to the concert I was not a huge Mblaq fan only knowing one of their songs and recognizing a few of the members (Lee Joon aka mini Rain from Ninja Assassins and Thunder/Cheon Doong - brother of 2NE1's Sandara Park.
Nonetheless I thoroughly enjoyed all their three songs "Y", "Oh Yeah" and my favourite "Mona Lisa".
On top of that I did enjoy Cheon Doong's introduction of the group "Tough leader - Seungho, Powerful Vocalist - G.O, Ninja - Lee Joon, Cute Boy - Mir, and I'm just Cheon Doong :P".
Great performances from a great group.




---
The best moment for me at this Kpop Music Festival in Sydney
was Kara coming on stage!
With loud clubbing music and bright green laser lights, Kara had set the stage to deliver a burning performance of three of their title songs including: Step, Mister and Lupin which had everyone up and dancing and cheering crazily (myself included).
As with Girls Generation, Kara's, Nicole and Seungyeon thanked all the fans for coming out to enjoy the night. Confidentially though, apart from enjoying all the Kpop songs, I also enjoyed listening to Nicole speak English. (Note: I just love hearing Korean idols speak English)
Please see below for a clip of Kara performing on stage:)


The Kpop Sydney Concert ended with all the performers of the night making their way onto the stage to send their fans a final farewell and last words of thanks.
To see 12 of my favorite idol groups on stage for the last time that night was a big highlight for me, as I eagerly tried to inch forward to get closer to the idols as they were throwing out small plastic balls into the crowd (unfortunately I didn't catch one) and even though five of the members of Girls Generation had left for the airport already, it would not be an understatement to say that this was one of the best experiences ever!!

K-pop Music Festival in Sydney
was definitely an event to be remembered by all fans like me!