Been To Any Amazing Allkpop Concerts lately?
Allkpop Concerts! Here you will find all the information about past, present and future Kpop concerts.


"2011 Sydney Kpop Music Fest"

One of the latest and largest allkpop event outside South Korea to rock the land down under was the 2011 Kpop Music Festival in Sydney
held on the 12th November at ANZ Stadium in Australia.
This concert marked the 50th Anniversary of MBC as well as the 50th year which South Korea and Australia had formed a diplomatic relationship.
I was one of the fortunate and lucky few (of thousands -- lol!) to attend this amazing congregation of 12 very popular Allkpop icon/girl/boy bands of the Kpop World!
I did have some challenges though as I lost my way getting to the ANZ Stadium, then find that even though I purchased the tickets the minute it was opened for sale, the seats were very far away and the buzz and atmosphere did not compare to the crazy buzz at the 2010 YG Family Live Concert in Seoul
. After the concert, I was not able to grab a taxi due to the sheer number of people 'fighting' for one and I had to spend quite some time locating where to catch the train back to my hotel in the city where I was staying for the night!
Please check out this picture below to see how far away the seats were, I was not exaggerating!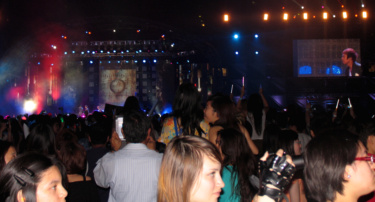 I would love to hear from anyone who attended any allkpop concerts especially this one in Sydney, how they find the concert and if they have the same problems as I did getting to the ANZ Stadium and back!
The 2011 Kpop Music Festival in Sydney
was the first Korean concert held in Australia and showcased 12 of the biggest names in the Kpop industry including: SNSD/Girls Generation, Kara, SHINee, DBSK, 4minute, Sistar, CN Blue, Beast/B2ST, Mblaq, Secret, Miss A and 2AM.
With SNSD's Tiffany and Yuri being the MC's for the night all 12 idol groups gave their all in fiery performances of their own hit songs as well as some special collaboration stages and dance battles, and treated myself and other avid Kpop fans to a memorable night that we will not soon forget.

"YG FAMILY LIVE CONCERT"

YG's Family Concert have been held since 2004 and brings together all the artists under YG Entertainment for a night of hype and fun, with their current line up consisting of: Big Bang, 2NE1, PSY, Tablo, Se7en and Gummy.
I was fortunate enough to attend the 2010 YG Family Concert in Seoul with my cousins.
2010 YG Family Live Concert in Seoul
?
What can I say? It was SUPER SUPER AMAZING! YG held nothing back to give their fans the best kpop experience, and even though it was 'sardined-packed' and very sweaty I cannot believe the enthusiasm of the Korean crowd and can safely say it was one of my life's highlight.
2011 Yg Family Concert Live
was scheduled for the 3rd and 4th of December and again proved to be the most anticipated concert, with the latest addition to the YG Family - Epik High's Tablo making his first appearance at a YG Concert.

KARASIA 2012 - Kara's First Concert
In late December 2011, DSP Entertainment surprised all Kamilla's (Kara fanclub name) and Kpop fans in general, by announcing that Kara would be holding their first solo concert since their debut in 2007, titles "Karasia"
With tickets going on sale in just a short couple of days, on the 10th for Kara's official fanclub and 12th for the general public. You can be sure that ticket's will swept up in a matter of moment to show the girls ever growing popularity.
The concert is scheduled to take place at the Seoul Olympic Stadium on the 18th and 19th of February.
Looks like Kara is starting up 2012 with a BANG!hope all you Kpop fans who are going have an awesome time!
Wish I could be present for every allkpop concerts!