Yep! It's About Me And Why I Love South Korea, Kimchi and Allkpop!
About Me? on South Korea, kimchi and allkpop? --- Easy! I have been in love with this great country for years now and I finally have the opportunity to travel Korea, I made it during "Visit South Korea Year 2010"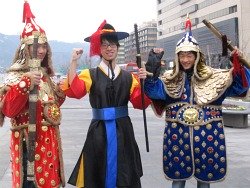 Hi, My name is Alex Satianyot. I am the one in the middle in the photo above with my 2 cousins, Sean and Kieran Yap. So, what can I tell you about me? I am 21 years old and just graduated from RMIT University, Melbourne, Australia with a Bachelor of Business - Entrepreneurship where I study the 'art' of starting and building a business from ground zero instead of having to rely on a JOB (Just Over Broke!?! lol!)
You can say that going to South Korea was a graduation present to myself. I love everything kpop and therefore naturally fell in love with the country when I travel Korea. It was one of the best holiday and experience of my life to learn about the South Korea history, culture, experience South Korea food like kimchi and bulgogi and most importantly to attend a major event in allkpop or korean pop music -- the YG Family concert. Even though the hours in the day were limited, we made full use of each and every day to explore. Seoul Korea is just so exciting and so full of buzz!
We stayed at a hotel which is situated right in the heart of all the activities and just across the road to Lotte Shopping Mall --the mall where there is a large food court selling Korean, Japanese, Mongolian, Chinese food etc .. and underground shops.
It is also a place where you can get excellent cheap skin food or skin care products.
Traveling on the trains and buses was cheap and very very convenient.
We visited Seoul Olympic Stadium, the huge amusement center at Lotte World, the shopping hub at Myeondong, join Korea Tours on a bus coach to the traditional Korean village at Hanok. It is here where we had the best bibimbap --- winner of many awards for years running. Melbourne, Australia is my birth place but I have never walked in the city when it is actually snowing. I usually have to go to Mt Bulla to experience this but to actually feel the flakes of snowing falling on to my face was just something magical.
When we left Melbourne, it was reasonably warm but some days in Seoul, the warmest temperature was -4 degrees! So, we did the next best thing -- we went shopping for trendy winter clothing in the shopping mall. I managed to get a very fashionable winter jacket, a warm scarf and even a pair of red shoes!
The most exciting thing to see is that even at 11.30 at night, when it was less than -5 degrees and we were bundled up in beanie, ear-muffs and hand gloves, Myeondong was still packed with people buying snack food and shopping at the road side! I love it!
South Korea is just a buzz with live performance shows. You can't go past "Nanta", the comedy cooking show and "Martial Arts" and "Drums"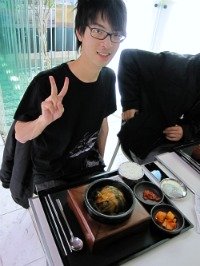 I love South Korean food and if you are like me, you will fall in love with their kimchi, bibimbap, bulgogi, korean bbq and galbi ... We tried a different type of food every day but I must admit, we seem to have gone back and back again for kim chi, bulgogi and bibimbap! And of course, who can forget the South Korea Pop music -- better known as kpop?
Well, the first night I was in South Korea, I attended the YG Family Concert featuring 2ne1, Big Bang, Gummi, Psy and Se7en The buzz was unbelievable at the concert.
Korean fans are just so enthusiastic about allkpop --- no shortage of screaming and loving there!
So (sigh!) what can I say? Now you know everything about me! on South Korea, kimchi and allkpop ...
BUT ALAS! ... Back Home To Reality!
Reality struck me when I got back home to Melbourne, attended my graduation and hit the ground running looking for a job even though I now know I have grown wings and my feet will no longer be able to stay on the ground for too long. Still, I have to be practical ... I need to get some money coming in ... especially after all my shopping in South Korea. Well, one month past, two months past, three months past and I was really panicking ... then I found out about SBI.
SBI stands for Site Build It and it is the only all-in-1 package of process, software, guidance and help that enables anyone to create web sites that build profitable business at unmatched rates of success ...
Build a website? That's right! Actually unlike all other young people, one thing about me is that I am never good in computer -- my greatest skill was watching all the kpop music and videos on the internet. But you can see, I built this website with SBI, so believe me when I say that if I can do it, anyone can do it.
Everything is explained so clearly and made simple on SBI. You do not need to have programming or webdesign skills. You don't even need to have prior business knowledge or have any products to sell. You just need to be motivated and SBI will provide all the tools and show you step by step how to be successful.
Heck! They even help you find the topic you are passionate about so you don't even feel like you are working because you will have so much fun building it. Then when you start to see results, "Ka-Ching!" it is added bonus (though it will not be unexpected) and totally SWEET!. Remember with SBI, you will not just be building a website, you will be building a business and at your own pace!
But, don't take my word for it - read the detailed individual experiences of hundreds of Case Studies of successful SBI websites built by people like you and me. All these sites are in the top 1% of the most successful sites on the web.
I have now introduced SBI to my cousins who are still
University Students because I reckon since they are spending lots of their spare time on the internet anyway, they can use that time to build a profitable small business that could pay them for life and graduate with more than a degree because they will have their own business then.
Oh ... Did I also tell you it is totally risk free? It is because there is a 90 days trial with full money back guarantee .. actually I work out that it is free anyway because if you were to use your own way of building a website, the cost of the domain name and hosting is probably more than the cost of SBI for the year. And for your information SBI are taught in some Universities and Colleges around the world but you are getting all these knowledge free! How cool is that!


So ... HOW DO I MAKE MONEY?

I use Affiliate Marketing where I publish a theme-based information-jammed content site and monetize that with the cream of affiliate programs.
There are countless other ways to make money with a website: create your own ebooks, mlm, sell hardgoods, local business and the list goes on .... the great thing is that Solo Build It will teach you all these as well.
Today, Everything about me is looking better everyday -- I have a full time job and still working on my site. I aim to build my site to a level where it will be my number 1 income and my job will be my secondary income. With the economy as it is today, should I not have a job tomorrow, I know I still have my main income flowing in from my website. With that, I know that I have not wasted my time on my Entrepreneurship course where I was taught to 'think outside the box' when it comes to building a business!
So, what are you waiting for? "If nothing changes, nothing changes"


Try SBI today! -- You have nothing to lose but everything to gain!