Palaces And Forts Rise From The Turbulent History of South Korea
You will find that palaces and forts play a major part of South Korea history. Korea also boasts of major historic sites, temples, national parks, valleys, waterfalls, beaches, lakes, hot springs and cultural villages. The rich five thousand years old history of Korea not only embodies the turbulent era but is the major tourist attraction.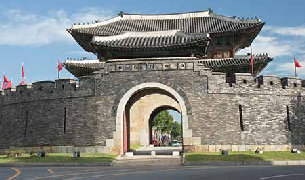 Palaces and Forts in South Korea attract tourists in large numbers and the major ones are Namhansanseong Fortress, Achasanseong Fortress, Bukhansanseong Fortress, Changdeokgung Palace and Huwon, Changgyeonggung Palace, Changryonmun Gate, Deoksugung Palace, Dondaemun Gate, Ganghwasanseong Fortress, Geumjeongsanseong Fortress, Gonsanseong Fortress, Gwanghwamun Gate, Gwongeumseong Castle, Gyeongbokgung Palace, Gyeonghuigung Palace, Hwaseong Haenggung Palace, Jinjuseong Fortress, Paldalmun Gate, Sungnyemun (Namdaemun), Suwon Hwaseong Fortress and Unhyeongung.


The Korean countryside is punctuated by forts and palaces. Seoul and its surrounding areas are home to many of them. History points out that Korea suffered over nine hundred invasions and the forts were constructed to protect the people against foreign invasions.
The first fortifications made of mud and timber can be dated back to around 2 B.C. As technological advancement took place, the newer elements of technology were applied in the building of castles and forts.
If you are fascinated by stories behind the history and the origins of the buildings, it's a must visit places of interest!
Features of Forts and Palaces in South Korea:
The Namhansanseong Fortress has a rich military history
Achasanseong Fortress in Seoul was built about 2,000 years ago
Bukhansanseong fortress was built in 1711, during the time of the Joseon Dynasty. This served as an ideal place for retreat for the kings during times of crisi
Changdeokgung Palace is the only palace in Korea that exemplifies the architectural style of the Joseon Dynasty
The significance of the Changgyeonggung Palace was belittled during the Japanese invasion, which was converted into a resort with a zoo and botanic gardens. The zoo was removed in 1983; the palace was restored and named Chaggyeonggung once again
Many of the historic sites in South Korea including Hwahongmun Gate Hwaseomun Gate Janganmun Gate and Suwon Hwaseong Fortress are all recognized as world heritage by UNESCO in 1997




Palaces And Forts Back to Home