Why Hwahongmun Gate Is Recognised As A World Heritage Site By UNESCO .....
Hwaseong Fortress was designated as historical site No.3 by the Korean government. It was recognized as a world heritage site by the UNESCO in December, 1997. This fortress was built by King Jeongjo of the Joseon Dynasty.
The richness of South Korea history has Palaces and Forts scattered across the country. Most of these forts and palaces are in ruins. Seoul in South Korea houses the existing ones.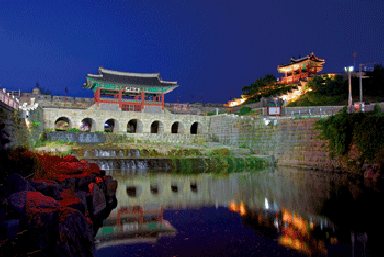 The construction work began in 1794 in January and was completed in 1796. The four gates of Paldalmun, Janganmun, Hwaseomun and Changnyongmun are situated in four directions.
It was constructed with the objective of shifting the tomb of King Jeongjo's father, Sado Seja, a casualty of a fierce strife. The fortress was to put a check on old forces and release newer ones, consolidating the position of the king.
This brilliant fortress consists of Hwahongmun Gate, which is a rainbow-colored gate attracting a flood of tourists and visitors.
Hwahongmun Gate is a "beautiful rainbow-colored gate". Located below Banghwasuryujeong, this north flood gate is a major attraction of the Hwaseong Fortress
It was built over a stream which runs through the Hwasoeng Fortress by expanding Suwoncheon, and a bridge with seven holes was built
A multi-story building was built above this bridge
Hwahongmun Gate played a significant role as a bridge linking villages from all around the stream
A bower on the stream was a resting place for the people and equipped with canons to guard the fortress
Hwahongmun Gate Back to Palaces and Forts