Suwon Hwaseong Fortress - Blend of Traditional Eastern And Western Styles
Suwon Hwaseong Fortress in South Korea will take you back to the historic and cultural heritage of the country. Built between 1794 and 1796, Suwon Hwaseong Fortress is located just 30 kilometers away from Seoul.
History says that King Jeongjo built the fortress to pay trubute to his father Prince Sado who had to commit suicide when shut in a rice chest by King Yeongjo.
Given the status of a World Heritage site by UNESCO in 1997 and displaying the blend of traditional Eastern and Western styles, this historic site also preserves the remains of Prince Sado.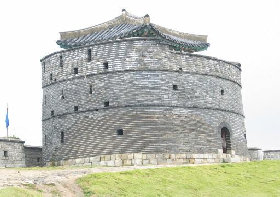 This fortress was designed by the architect, Jeong Yak-yong, who later led the Silhak movement, which inspired the use of science and industry. This Fortress was built by using designs from Korea, China, and Japan. And even brick, efficient pulleys and cranes were used. The design of the fortress included a wall, fortress and town center.
There are four gates
Hwaseomun (west gate)
Janganmun (north gate)
Paldalmun (south gate)
Changnyongmun (east gate)
While Paldalmun was rebuilt in 1975 after being destroyed in the Korean War, Janganmun was pompously built and stands for the wish of King Jeongjo to shift his capital to Suwon
The wall of this Fortress in South Korea was built high on a flat terrain and the parapets were made of stone and brick
There are floodgate, four secret gates, four guard platforms, two observation towers, two command posts, two archer's platforms, five firearms bastions, five sentry towers, four angle towers, a beacon tower and nine bastions.
History adds that King Jeongjo had built this Fortress in South Korea so that the capital from Seoul to Suwon, which links Seoul with the Yellow Sea and China
Suwon Hwaseong Fortress Back to Palaces and Forts