Allkpop Fx to Set the Kpop World Ablaze!
Allkpop Fx, a 5 member girl group debuted in 2009 under SM Entertainment and quickly rising to popularity in the Kpop world.
Allkpop Fx came from a very diverse background and from different parts of the world including: Korea, China, and America. They have constantly displayed their talents not only in music, but also in variety shows, acting, sports and TV hosts.

Members include:
Victoria (Song Qian)
Amber (Amber Josephine Liu)
Luna (Park Sun Young)
Sulli (Choi Jin Ri)
Krystal (Jung Soo Jung)

After a series of teaser photos, Allkpop Fx made their official debut with their digital single "La Cha Ta" marking their entrance into the kpop industry.


Alongside sister group "Girls Generation" they released two different versions of the same single titled "Chocolate Love" to promote the "new" LG Cyon phone. They then delighted their fans with the quick release of their new song "Chu~<3" which showcases the girls' innocence and cuteness.

Allkpop Fx made their comeback in mid 2010 with their second mini album with their title track "NUABO". The story behind this song related to finding a new blood type, with "Nu" meaning "New" and "A, B and O" referring to the different blood types. "NUABO" was extremely popular amongst allkpop fans topping many online music charts.
Halfway through the promotions however, Amber suffered an ankle injury and was unable to dance, and dropped out to take a long hiatus in USA. The remaining four members continued to promote "NUABO" and their other single from their second album titled "Mr Boogie".

In mid 2011, all 5 members returned to the allkpop scene with their first full length album and their title track "Danger (Pinocchio)". This song had a electric feel to it and received an overwhelming response from allkpop fans winning the girls several "Number 1" spots on various music programs including: Music Bank, M!Countdown and Inkigayo.


Soon after the girls came out with a new song to bring in the summer weather with "Hot Summer" as well as a repackaged album of Danger (Pinocchio), with the additions of three songs "Hot Summer", "Chu~<3" and "La Cha Ta".

Leader Victoria greatly expanded her fan base with her involvement in popular variety shows as well as her recent role in a Taiwanese drama "The Prince Who Lost His Castle". She also was a part of Invincible Youth Season 1, where she was introduced as one of the second generation G7 members - following the departure of 4minute's Hyunah and Girls Generation's Sunny and Yuri.
Victoria's popularity also soared when she was selected to appear on MBC reality dating show "We Got Married" being partnered with 2PM's Nichkhun, being dubbed by fans as the "Khuntoria" couple. Prior to her debut with Allkpop Fx, Victoria was originally trained to be a model with SM Entertainment and has appeared in many of her label mates music videos including: ShiNee, Kangta, Super Junior and Trax.

American born member "Amber", known for her tomboyish image, has been featured as the rapper for many of her label mates, teaming up with Girls Generation's Yuri to perform Ciara's 1, 2 Step, being featured in Taiwanese singers "Danson Tang" music video "I'm Back" taking the rapping role. She also collaborated with Super Junior member Henry in their "Super Show 4 - World Tour" in a remix version of Justin Bieber's "Baby". Amber was also casted in the second season of Invincible Youth, but it has been recently announced that she along with fellow member Rainbow's Woori will be leaving the show to concentrate on their respective groups activities.

Luna Park (Park Sun Young) has had significant success in her wide variety of individual activities alongside her involvement with F(x), more specifically her contributions to various soundtracks and her participation in the song "Let's Go" as part of G20. Like fellow member Sulli and Victoria, Luna is all set to make her acting debut in the TV drama Saving Madame Go Bong Shil", following her success in the musical Legally Blonde, where she acted the lead role of "Elle Woods" (similar to Girls Generation "Jessica"). In addition Luna is also the host of music program "MTV: The Show" alongside Secret's "Jeon Hyosung".

Prior to her debut with Allkpop Fx member Sulli Choi was a child actress, making a name for herself in the entertainment industry with her appearances in various shows including: "The Ballad of Seo-dong", "Love Needs A Miracle" "Drama City" and many more. Currently she is attending Chungdam Middle School with fellow kpop idols (CN Blue's Jonghyun, Miss A's Suzy, After School's Nana and Lizzy and more), Sulli is actually the icon of her school with her picture appearing on the school website homepage. In addition to her acting career, Sulli has also been selected to endorse several brands/products including CK Jeans (with Victoria and Krystal), K-Swiss, LG Cyon Phone etc.

Maknae "Krystal" has gained lots of recognition in the kpop world for her stunning beauty and never ending talent. Before her debut Krystal had garnered a lot of attention due to her relationship with older sister "Jessica Jung" of Girls Generation. At the age of 5 Krystal was already demonstrating immense talent, appearing in labelmate's "Shinwha's" music video as well as various commercials and officially joined SM Entertainment in 2006.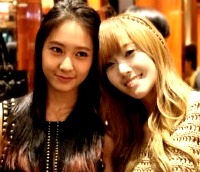 Krystal is one of the more athletic members of Allkpop Fx as demonstrated by her frequent appearances in "Let's Go Dream Team" showing her skills in running, strength games and the high jump, her competitive fire was shown once again in "King of Idols" where she showed her dominance in various games.
Krystal has allowed fans to see a different side to her via her acting roles in the two sitcoms "More Charming By The Day" and "High Kick 3: Revenge of the Short Legged One". Krystal has appeared in several music videos including: Shinhwa, ShiNee, Rain and Alex. She was also one of the competitors on Kim Yuna's skate show "Kiss and Cry" being partnered with "Lee Dong Hun" and coming out on top to win the competition showing off her abilities and talent as an athlete as well as a singer.

In addition to individual activities, Allkpop Fx have had two of their own reality shows titled "Hello F(x)" and "F(x) Koala".
Hello F(x) ran for four episodes showcasing the groups activity after their "Chu~<3" promotions and prior the official release of "NUABO", fans were able to follow the girls as they went to Africa for a photo shoot, Thailand for various interviews, press conferences and performances as well as the behind the scenes for their official photo shoot for their "NUABO" concept photos. There was also a segment in the final episode where the members expressed their appreciation and apologies to their fellow members since their debut.

Their second show "Hello F(x)" saw the girls traveling to different countries to spread the knowledge and world of Korean culture. The countries that F(x) had visited included: U.S.A , Japan, Hong Kong and France. The show lasted for 16 episodes and has showcased a fun side to the girls - unfortunately Amber was not able to partake in this show, as she was still recovering from her injury at the time.

Allkpop Fx have also made special guest appearances in many of the labelmates concerts including "Girls Generation", "ShiNee" and "Super Junior". They have also participated in SM Entertainment's "family" concert - SM Town Tour, and have toured to various countries including: Seoul, America, Tokyo, Shanghai and Paris, and more recently Allkpop has announced (to the delight of Girls Generation,
F(x), ShiNee, Super Junior, DBSK and BoA fans) that the 2012 SM Town Tour has officially been scheduled to kick off in May!

In three short years, Allkpop Fx has created their own trend among allkpop fans, supported and encouraged by other top kpop stars like labelmates "Girls Generation", "BoA", "DBSK", "Super Junior" among others.
Allkpop Fx is all set to stun the world with their beauty and seemingly endless pool of talent!