Allkpop Kara from DSP Entertainment's Rocks!
AllKpop Kara, a five member girl group in the allkpop world was founded in 2007 by DSP Entertainment.
It was originally a four member group consisting of Park Gyuri, Han Seungyeon, Nicole Jung and Kim Sunghee.Under the four member group, their debut album titled 'the First Blooming' was not as successful as expected.In 2008, Kim Sunghee left the group due to health issues and her wanting to focus on her studies.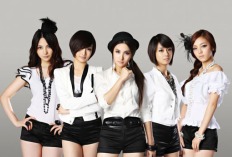 The group regrouped with two additional members in Goo Hara and Kang Jiyoung, to form a five member girl group.The new five member group released the Single "Rock U" with the intention to change their image to being "cute and bubbly".In late 2008, when they released their third Single "Pretty Girl" (a cute song to support their new image) and that received a very positive response from the audience.
During the promotions, a hot topic rose up amongst fans when Nicole Jung accidentally stepped on Goo Hara's foot resulting in Goo Hara screaming out in pain and crying backstage.That little incident brought the fans closer to the group. Shortly after the "Pretty Girl" promotions ended, this very popular girl group introduced their new Single titled "Honey" which surpassed "Pretty Girl" in popularity and became their first every Number 1 hit Single. In 2008, the girls made their breakthrough in the the kpop scene with their second studio album "Revolution".
They promoted two music clip on the online music playlist - "Wanna and Mister" with their titled Single "Wanna" reaching Number 1 on Inkigayo.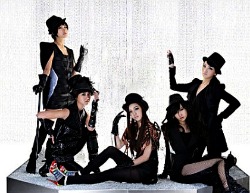 However, "Mister" was the song which shot them to international recognition with their 'butt dance' gaining a lot of interest worldwide! The introduction of the next single "Lupin" showed the group transforming their image to a more mature and sexy look, Lupin soared to the top of online music charts shortly after its release and won them the first place on M Countdown and Music Bank.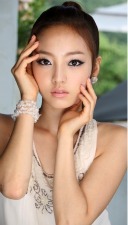 Kara has since began activities in Japan joining the Halleyu Wave, releasing Japanese versions of "Pretty Girl, Wanna, Honey and Mister" as well as introducing their original Japanese hit songs including: Jumping and Jet Coaster Love. At the end of 2010 Ocion announced that Kara was 2010 best rookie artist of the year, proving their popularity in Japan.
In early 2011 Kara rocked the Kpop world with the announcement of the contract termination with four of the members (Nicole, Seungyeon, Hara and Jiyoung), however, shortly after the lawsuit had been filed, Goo Hara rejoined DSP Entertainment claiming not to have known all the details of the lawsuit.
The lawsuit was regarding the equal distribution of money to the members and the poor management of DSP Entertainment, however in April 2011 the issue was resolved with the three members - Nicole Jung, Han Seungyeon and Kang Jiyoung rejoining the company.
The 2011 Dream Concert marks the first time that all five members have stood on stage together after the law suit incident.
Aside from their musical career, Kara has also been involved with variety and TV shows. Prior to their debut Park Gyuri and Han Seungyeon were both child actresses, having acted in dramas including: "Today is a Nice Day" and "Star in my Heart", while Goo Hara was a shopping star model before debuting.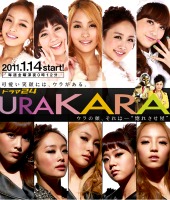 Goo Hara also took part in "Invincible Youth" a variety program where she joined six other girl group idols to experience life in rural areas, Jung Nicole was also part of variety program "Star Golden Bell" where she had her own segment on word games, she was also casted to be one of the 12 female members to appear on SBS's variety show "Heroes". More recently, Goo Hara has had the role of being an MC for the 2011 Dream Concert alongside Kim Heechul and Song Joongki.
Kara has made their acting debut in Japan as a group having their own show titled "Urakara" where the members have to accomplish missions regarding love, this drama was produced to further promote the group's ever growing popularity in Japan.
Kara continues to enjoy their wave of popularity in the allkpop world!