Daeseung Falls With Amazing Views!
Daeseung Falls in South Korea is located at Hangye 3-ri, Buk-myeon, Inje-gun in Gangwon-do Province and was famous as a major recreation site of King Gyeong-Sun (reign 927 - 935), the last King of Silla Dynasty (BC57 - AD935).
When it comes to size, it is twice as large as those of Guryong Falls of Mt. Geumgangsan or Bakyeon Falls of Gaeseong. It is located in the Naeseorak area of Mt. Seoraksan.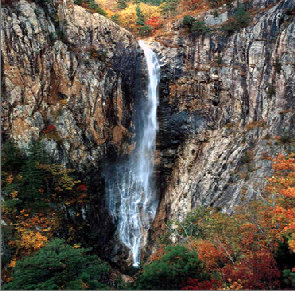 There is a large rock across from the Daeseung Falls where the word "Gucheoneuha" is carved out in Chinese characters.
The stream of the waterfall is 88 meters long. If you pass to the left of Jangsudae ticket booth, go past the Sajung Falls and climb up a steep and rocky path to reach the observatory area.
From here you can view the breathtaking scenery from above. There is also an iron ladder along the path leading to the observatory area. If you walk on the right walkway for another 5 minutes to Daseungryeong, you will find a narrow path that leads right up to the waterfall.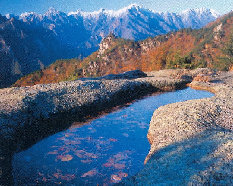 Tourists and locals alike flock to this path because of its magnificent surroundings and water streams.
According to the legend, there once lived a boy by the name of Daeseung who was orphaned at a very young age after his parents died. He made his livelihood collecting and selling mushrooms.
One day when he was ploughing with his body tied to a rope hung under the rock pillar of the waterfall, he heard his mother's voice calling him. When he climbed to the the top of the cliff, he found a large centipede cutting the rope that was used to support him and that was how this waterfall came about.


Daeseung Falls Back to Hot Springs