Biryong Falls - Whirling Water Brings Dragon Alive!
Biryong Falls in South Korea is located at Seorak-dong, Sokcho-si in Gangwon-do Province.
You can see streams of water whirling down between the narrow cliffs and the sight of the falling water of this magnificent falls creates an impression of a dragon rising from the mist. That is why it literally means flying dragon.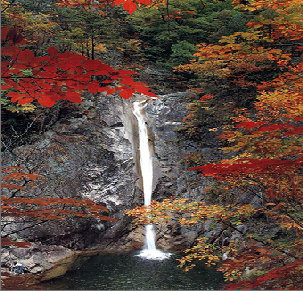 This is one of the most exciting, beautiful and romantic courses to hike on Seoraksan Mountain and has a 2.4km path that leads up to the Falls through a bamboo forest.
The Biryonggyo Bridge is located in the lower reaches of the Cheonbuldong Valley. It is called Ssangcheon and if you walk past it for approximately 30 minutes, you will see the Yukdam Falls on the left.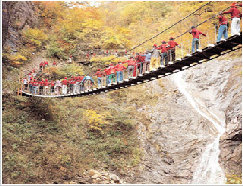 The fall is made up of 6 waterfalls and a deep pond. Take a 20 minute walk from here or 300 meters past this area and you will find it between the narrow and rugged ravine.
If you follow the Towanggol up a steep, rocky path, you will find a huge 3-tiered waterfall called Towangseong Falls. Unfortunately, due to the extremely dangerous path leading to it, it is barred to the public.
To get there, you can take City Bus No. 7 from Sokcho-si and get off at Mt. Seorak Sogongwon or the small park after 20-25 minutes ride.
Even more convenient is if you take a taxi from Sokcho-si and get off at the entrance of Oeseorak after 15-20 minutes ride.
If you have any queries, pop into Mr. Seoraksan National Park Administration Office where help and assistance is readily available.


Biryong Falls Back to Hot Springs