Bugok Hot Springs - Be Served Eggs Boiled In The Waters.
Bugok Hot Springs in South Korea can be spotted at the base of Mt. Deokamsan and was enlisted as a National Tourist Resort in 1977.
It is very popular and one of the most sought after hot springs in South Korea. It was given the status of a Special Tourist Complex in January 1997.
This Spring derives its name from the iron pot shape of the land. In fact, the temperature of the water in the spring is as high as 78 degrees c, which can sufficiently boil an egg.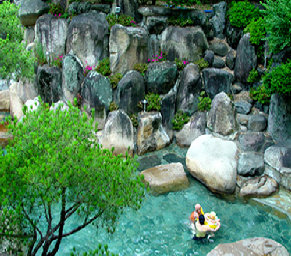 It is also a sulphur hot spring which offers therapeutic relief for breathing, neuralgia, rheumatism, skin disease, chilblains, bruises, prickly heat and leucorrhea.
Here, you will find some 20 types of inorganic materials like silicon, chlorine, calcium and iron in the waters.

Enjoy the various services like spa, the performance hall, outdoor and indoor swimming pools, zoo, botanical garden, five tourist hotels, 23 accommodation and 21 shopping centers here.
Organize family trips to this place where you can rejuvenate your body, mind and soul.
Bugok Tourist Hotel will even serve you eggs boiled in the waters of this hot spring.
You will find the Hot Spring Festival organized in October to celebrate and promote this hot spring.
There are many first class resorts here which have been built to cater to the crowds of tourists so, expect an international standard of accommodation, dining and a number of other facilities to make your stay an unforgettable one.


Bugok Hot Springs Back to Hot Springs