Chungjuho Lake - Do Not Miss The Fabulous Ferry Ride
Chungjuho Lake in South Korea is located at Jongmin-dong, Chungju-si in the Chungcheongbuk-do Province and is famous as a multi-purpose lake created by damming a river. Clean and well preserved, this is the largest lake.
The major attraction here is the fabulous ferry ride. At the Chungju Dam Ferry Dock, ferries depart to follow the waterways of the lake. Ferries operate in five areas of the lake.
The Chungjuho ferry travels to Oksunbong, Gudambong, Manhakcheonbong Peaks, Choga Rock, Whale Rock, Hyeonhakbong, Onodong, Sinseonbong, Gangseondae, Beodeubong, Oseongam, Seolmabong, Jebibong and Dumusan and reaches its final destination Sindanyang Dock.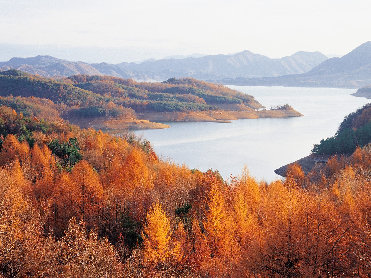 When the ferry moves near the Cheongpung Ferry Dock, you can see the second highest water fountain in Asia.
The most popular ferry routes are Chunjumaru that departs from the Chungju Dam and Janghwenary that is near to the Eight Sceneries of Danyang. Cheongpungnaru is also a popular course as it is located near KBS and SBS studio as well as Cheongpung Land.
The nearby Lake Resort is considered to be the best lakeside resort in the nation with popular lake sports, recreational and entertainment facilities. It is therefore the place to be for tourists.
Once you are at the lake, don't miss the nearby attractions of Mt. Woraksan National Park, Cheongpung Culture Center, Danyang 8 sceneries, Gosugul Cave, Suanbo Hot Springs and many others on the list.
To get there, you can take an intercity bus bound for Chungju from the Danyang Intercity Bus Terminal and get off at Janghoenaru after a 30 minutes ride.


Chungjuho Lake Back to Hot Springs