Bongeunsa Temple in Seoul offers "Temple Stay Program"
bongeunsa Temple in Seoul is located in Gangnam-gu in Seoul and is one of the most famous temles in the country. Its structural beauty and religious practices draws tourist in droves here.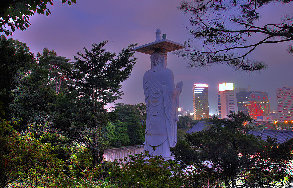 History says that Buddhism in Korea was severely curbed during the Joseon Dynasty. Luckily enough, this Temple sustained this period and gathered support of Queen Monjeong to emerge as the main temple of the Seon (Zen) sect of Buddhism in Korea.
It also served as the center of the Buddhist National Exam from 1152 and 1564. This temple was originally known as Gyeonseongsa Temple at the east of King Seongjong's royal mausoleum and was based near the royal mausoleum till it was relocated to the present site during the reign of King Myeongjong.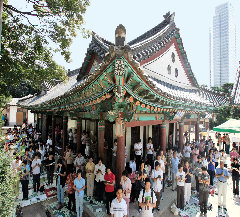 Built in 794 during the reign of King Wonseong, this temple was built by the monk Yeon-hoe on the slope of Sudo Mountain in Samseong-dong.
Even though several parts of the temple were ruined by a fire during the Korean War in 1939, repairs and modifications were done to built it into an extensive complex.
Here, you will find 3,479 Buddhist scriptures of 13 varieties including the works of Kim Jeong-hee. Even the Buddhist ceremony called Jeongdaebulsa is organized here every September so that the monks rally with the scriptures on their heads while chanting the Buddhist rites.

Fast Facts:

Location:
No. 73 Samseong-dong, Gangnam-gu, Seoul
Opening Hours:
4 am to 9 pm due to monks prayer times
Contact:
Korea Travel Phone - +82-2-1330
Temple Office - +82-2-545-1448
Take Bus Numbers:
361, 680, 2225, 2411, 2413, 3411, 3415, 4411, 4428