Baekdamsa Temple - South Korea History in the 7th Century
Baekdamsa Temple made its mark in South Korea history when it was built in the 7th century in Inje county of Gangwon Province.
The temple was constructed by Ja Jang during the reign of Queen Jin-Deok, a ruler of the Silla Dynasty, however, the structure that you see today was built in 1957.
Baekdamsa Temple was originally called Hangyesa and built in Hangye-ri. Several times later, it was reconstructed after calamities like war and natural disasters and its locations were changed with different names like Youngchuisa, Simsa, Baekdamsa and Simwonsa Temple.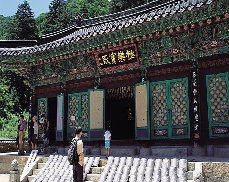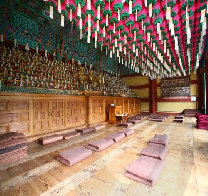 Baekdamsa Temple offers you wooden Armityus Buddha Statue which was constructed in 1748 during the reign of Yeongjo in the 18th century and Susimgyo, a wooden bridge in front of the site that extends across Baekdam Gyegok valley. You will also see structures like Geukrakbojeon, Sanryeonggak, Hwaeomsil, Beophwasil, Jeongmun and Yosachae in the temple.
Baekdamsa Temple gained popularity when Manhae Han Yong-Un, an advocate for national independence wrote Nimui Chimmuk (Silence of the Beloved). You will also find the Manhae Monument Hall in this temple which commemorates manhae Han Yong-Un.

Fast Facts:

Location:
Yondae 2(i)-ri, Buk-myeon, Inje-gun, Gagnwon-do
Transport:
From Inje Terminal, take a bus to Yongdae-ri
Contact:
Mt. Seoraksan National Park Administrative Office (Baekdam Branch)
Telephone:
(033) 462-2554 (Kor)
Admission Fee:
Adult (Age 20 and over) - 1,300 won
Teenagers (Age 14 - 19) - 600 won
Children (Age 13 and under) - 300 won