Beopjusa Temple Built By Monk Uishin in 553 in South Korea History
Beopjusa Temple is reflected in South Korea history during the reign of King Chinhung in 553. The temple was built by Monk Uishin. History also says that the Georyeo King called on numerous monks so that they could pray for the recovery of the national Teacher Uichion, a high-ranking adviser to the King in the 12th Century.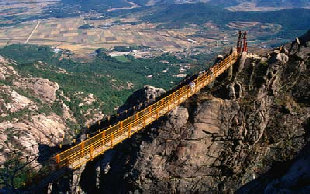 You will notice a five-storey wooden pagoda in Beopjusa Temple, the only one of its kind to be seen in Korea today. Do not forget to visit Palsangjeon Hall within the temple compound as it is made of wood supported by a cantilevered system and a central pillar running through its open center.
Any culture lover will thirst to explore Beopjusa Temple which is acclaimed for the architectural and structural beauty. Located in the Songnisan National Park, the Beopjusa Temple and its other structure were ruined by the Japanese invasion in the sixteen century. Several changes were later added and many more parts rebuilt.
The architectural beauty of the temple like the stone lanterns, the iron banner pole, Daeungbojeon - a double roofed structure and Churaeam - a rock carving with Buddha on a lotus blossom is quite an impressive sight.
The Buddha statue was built to symbolize universal peace and Korean unification. The temple also had a stone basin in the main courtyard for serving drinking water and the iron cauldron in a corner of the main courtyard was used for serving rice.