Baengnyeonsa Temple, South Korea History with white lotus flowers
Baengnyeonsa Temple takes its place in South Korea history as one of the most famous Buddhist temples in the country. This temple has turned into a garden of camellia trees, declared as natural monuments in the Spring.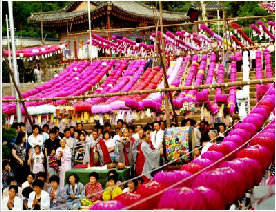 Located amidst Muju Gucheondong Valley, the architecture beauty blended with the beauty of the natural settings will mesmerize you.Baengnyeonsa Temple is located in the upper part of Gucheondong Valley on Mt. Deokyusan and is very popular amongst the tourists.
According to South Korea History, during the reign of the Silla Dynasty, a white lotus flower blossomed in Baengnyeonsa Temple leading to its name, Baekryeonsa.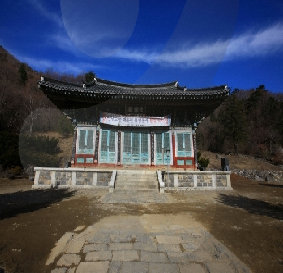 Enveloped within Mt. Deokyusan, Baengnyeonsa Temple will impress iwth its quiet settings. There is a bridge at the entrance of the temple leading you to a stone stairway.
The sanctity of the main site of the sanctuary gets enhanced by the spectacular and virgin surroundings.
The Mokjosamjonbul within the main building of the temple is believed to have been constructed in the latter part of the Joseon Dynasty.

Fast Facts

Location:
Baengnyeonsa Temple, Samgong-ri, Seoicheon-myeon, Muju-gun, Jeollabuk-do
Contact:
Telephone - (063) 322-3395 (Kor)
Admission Fee:
Age 20 years and over - 2,600 won
Age 14 to 19 years - 1,200 won
Age 13 years and under - 600 won
Groups 30 people or more - 2,400 won; 1,000 won; 500 won respectively for the given age groups