Upo Wetland - A Paradise For Endangered Species.
Upo Wetland in South Korea is a complex of natural wetlands located in Changnyeong County near Nakdong River. The wetland is made up of four smaller wetlands - Upo, Mokpo, Sajapo and JJjokji-beol and it derives its name from the largest of the wetlands -- Upo!
Upo is home to countless endangered, threatened and rare species.
Based on a 1997 survey, the wetland is home to a total of 342 endangered species - 168 species of plants, 62 species of birds, 55 species of arthropods, 28 species of fish, 12 species of mammals, 7 species of reptiles, 5 species of amphibians and 5 species of molluscs.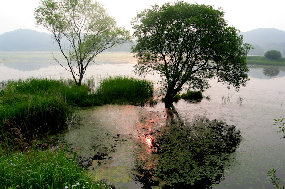 The most well known rare plant found here is the prickly lotus or Asin Euryale.
There are large numbers of migrant birds including other rare species such as the white-nape Crane and Taiga Bean Goose.
Being the largest natural wetland in Korea, it grows lots of water plants on the spacious land ranging from Jumae-ri, Daehap-myeon, Changnyeong and An-ri, Ibang-myeon to Daedae-ri and Sejin-ri and Yueo-myeon.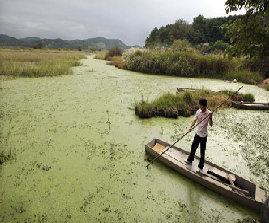 Upo is made up of conglomerates from the Cretaceous period of Mesozoic era and was acknowledged as an Ecological Conservation Area on July 26 in 1997 by the Ministry of Environment. The following year, it was selected as a Protected Wetland conforming to the Ramsar Treaty.
Upo is a natural wetland formed in the inland where the branches of the Nakdonggang River meet in a narrow land.
Most of this Wetland area has been protected since 1997 and is now part of the the Upo Ecological Park, however agricultural and fishing activities still take place here.


Upo Wetland Back to National Parks