Hallyeohaesang National Park - Bewitching Sunrise And Sunset
Hallyeohaesang National Park in South Korea is a maritime park and located along the coast comprising of Namhaedo and Geojedo Island on the Southern Coast.
At least 6.6% of the national parks in country are specifically preserved lands which are either located in the mountains or along the coasts.
To preserve the beauty of the parks and to cater to the ever growing South Korea tourism, the Korea National Parks Authority is set up to look after the parks.
This park is simply unparallel to another other parks in South Korea and nothing can match up to the beauty of its wide collection of flora and fauna.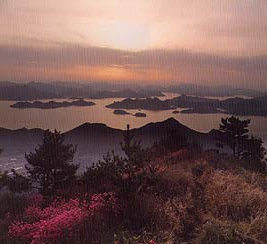 This Park is primarily famous for Odongdo Island which is full of plants of sub-tropical origin and lovely camelias. The view of the sunrise and the sunset from the Bijindo Island will bewitch you! The Bijindo Island is specifically noted for its native plant, Palsonyi Tree.
Hansan Island here is particularly famous for a historical event. This island was the spot which witnessed the victory of General Lee Sun Shin. The Hallyeohaesang National Park has a beautiful stretch of seashore which adds to the grandeur of the national parks. The soft sand and the blue water fulfill the ideal picturesque view.
The numeours islands within the park are natural homes to many animals and birds where they can enjoy perfect freedom without being disturbed by human development. The Park prides itself in having sites of tourist importance like Haegeumgang River and Marine Tourism Farm on Odeo Island


Hallyeohaesang Back to National Parks