Korean Barbeque - Flame Grilled & Hot!
Korean Barbeque in South Korea is usually grilled with kimchi, galbi (marinated grilled short ribs), pork belly, onions & more ...
Korean BBQ is one of the most unique and a must try activity and you will find bbq recipes one of the most sought after food recipes in South Korea
Of course, for the serious BBQ competitors wanting to get the best results, there is always a hidden manual with the best kept barbeque secrets.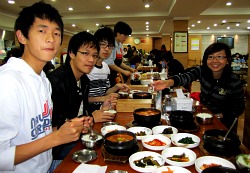 You can grill many different Korean food, including kimchi, galbi, pork belly (Samgyupsal), onions etc.
Most often people eat it as a wrap, covering the meat in a lettuce leaf and seasoning it with Gochujang (Korean traditional sauce made of red pepper) paste for a bit of a kick.
My personal experience in Korean Barbeque was fantastic, watching the meat cook in front of you, while waiting eagerly to eat and we kept going back for more again and again!


Korean Barbeque Back to Korean Food