Korean Street Food - Discover The Favorites From The Street!
Korean street food are much loved and you will find that the locals will have their own favorite pojangmachas or street vendors that they tend to frequent more often. No doubt too, Korea tourism have boosted the popularity of Korean street food.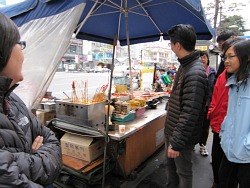 Personally, I never knew that black sweet corn existed let alone tasted one so here in South Korea, I was pleasantly surprised to find street vendors selling yellow as well as black roasted corn, fish bread, tornado potatoes in skewers and Ddeokbokki to name a few.
So, what kind of food can you expect from the street vendors?
* Tteokbokki which is cylindrical rice cake cooked with pieces of fish cakes in spicy gochujang sauce

* Fried squid with glazed sweet potatoes

* Soondae which is a sausage made of cellophane noodles and pig's blood served hot and has a rich flavor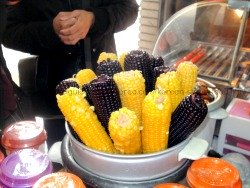 * Roasted corn is delicious hot but it is the black sweet corn that threw me off and I can tell you that it actually tasted more like black glutinous rice rather than the normal yellow sweet corn that we usually have.

* Fish bread is actually more like red bean paste pancake cooked in a fish cake mold. This seems to be a real favorite amongst the locals.
Other snacks enjoyed by locals and tourists alike includes chocopie, shrimp crackers, bbungtigi or fried rice crackers and nu lung ji which is actually rice that is slightly burnt. Nu Lung Ji is usually eaten as is or boiled with water to make broth or as snack or dessert.

You will find the Sinchon area very popular with University students and young backpackers. The food here is cheap, tasty and creative.
Top 4 Street Vendors:

1. Fingerfood Bar
400-1 Mapo-gu
Seogyo-dong
02-322-8405
Closed Mondays

2. Mamacita!
94-17 Gangnam-gu
Nonhyun 2-dong
02-511-7088

3. High Street Market
Yongsan-gu
Hannam-dong 737-24
2nd Floor
02-790-5450

4. Le Gout Des Autres
Jongno-gu
Sinmoon-ro 2-ga #1-248
070-4121-0170

Korean Street Food back to Korean Food