Korean Ginseng Chicken
Korean Ginseng Chicken is one of the most sought after Korean recipes as it is believed that (Samgyetang) is beneficial for health and can both cure and prevent physical ailments.
Only whole and uncut ingredients are used for this dish to preserve the maximum amount of nutrients of the dish. Therefore, a whole chicken is stuffed with glutinous rice and boiled in a broth of ginseng, dried seeded jujube fruits, garlic and ginger.
Many Korean households enjoy this traditional and healthy dish on specific days in the Summmer - Chobok, Jungbok and Malbok.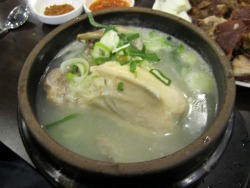 How to Make Korean Ginseng Chicken ...
Ingredients:
2 Cornish Hens
1 Cup of sweet rice
4 Cloves of Garlic
12 Chinese Date (Red Jujube)
8 Chestnuts
2 Whole Ginseng Roots (Fresh)
12 Slices of (Fresh) Ginseng roots
Add salt for taste
Freshly Grounded Black Pepper
1 small piece of ginger
6 large Shitake mushrooms
3 green onions
1 Clay Pot or Stone Pot required
Instructions :
If you are using dried ginseng root, the ginseng roots need to soak in cold water for 1-2 hours or until soft
Clean and peel chestnut
Rinse sweet rice in colander and soak in a container with water for at least 1 hour, and drain water
Remove and discard innards from Cornish hens. Wash each hen under running water, and after cleaning the hens should be patted to dry with paper towel and set aside
Seed red Chinese dates
Soak the Shitake mushrooms for 1/2 hour
Stuff Cornish Hens with rice, jujube, garlic, chestnuts, and ginseng. To hold the contents inside the Cornish hen make a deep vertical slit on the inner part of one of the drumsticks and then insert the other leg through the vertical slit. Thinly dice the ginger and green onions
Pour water into a large stock pot and place the Cornish hens into the stock pot, add green onions, and ginger. Bring to a boil over high heat, skim and discard any chicken fat, turn heat down to medium-low after water boils for 2 minutes, and continue to cook for about an hour. In the last half hour add the whole Shitake mushrooms
Divide and ladle soup among 2 servings, serve with salt and pepper on the side
Korean Ginseng Chicken Back to Korean Recipes