Korean Curries Are Quite Mild
Korean curries are not spicy unlike those from the rest of Asia.
They are actually quite mild and are commonly made with beef, pork, chicken and even duck. Different varieties of vegetables are used like onion, carrots and potatoes. Expect to experience a different version from the rest of the Asian countries.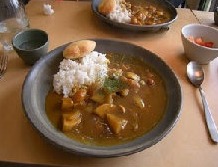 How to Make Korean Curries
Ingredients:
Roux:
3tbs Butter
1/4 Cup of Flour
2 tbs Curry Powder
1/2ts Cayenne Pepper
fresh ground pepper
1tbs Ketchup or Tomato Paste
1tbs Tonkatsu Sauce or Worcestershire Sauce
For The Sauce:
2tbs Oil
2 Large Onions (Sliced)
2lbs Chicken thighs, cleaned and cut into chunks
4 Cups of water
2 Large Yukon Gold Potatoes, cut into large chunks
1 small apple, peeled, cored and pureed
2 ts of Salt
1/2 Cup of Peas
1ts of Garam Masala
Instructions :
Heat oil in a large saucepan over medium low heat and add onions. Saute the onions until they are golden brown and caramelized (about 30 minutes)
Turn the heat up to high and add chicken and brown
Add carrots and water and bring to a boil. Skim off and foam or oil that has accumulated at the surface
Lower the heat to medium and add potatoes and pureed apple, salt, and Garam Masala. Simmer until the vegetables are fork tender, and meat is cooked and tender
For the Roux :
Melt butter over medium low heat, add flour and 1 ts of Garam Masala, stir until you have a thick paste
Add Cayenne pepper and black pepper
Add Ketchup and Tonkutsu Sauce and stir ingredients until the paste starts to crumble
Remove from heat and set aside until meat and vegetables are ready to serve
Ladle some broth from the meat and vegetables into the roux
Curries Back to Korean Recipes